Zimbra to Outlook Migration
One stop solution to Migrate Zimbra Data to MS Outlook
Migrate Zimbra data from multiple mailboxes as batch at once
Complete Zimbra Mailbox migration that includes - Mails, Address Book, Calendar & Task
Zimbra Desktop or Web Client installation is not required with this software
Accurately maintains the Folder/Sub-Folder hierarchy of the data
Maintains all the data as it is, does not changes any of the files
Updated edition now supports conversion of Zimbra Briefcase items too
Zimbra to Outlook Migration an Easy Solution Now
Wanting to migrate Zimbra data & files to MS Outlook?
Now it's simple & easy to get done with help of one amazing third-party tool
Zimbra to Outlook Converter that definitely come across as an all-in-one solution when it comes to migrating Zimbra Mails, Calendar, Task, Address Book and Briefcase to Outlook. This program make sure that all of the files data, formatting & details are kept intact, only the format of the files is changed that to PST format, to make them accessible in MS Outlook, other than that every other details remains same.
1 Tool Multiple Tasks to Perform
Most tools we have today only migrates the mails from one email client to other, but not here you get the complete migration suite that performs migration from entire mailbox including Mails, Calendar, Task, Briefcase and Address Book. Using this tool you can migrate entire data to Outlook from Zimbra Desktop as showing below -
Supports to migrate Emails to MS Outlook
Migrates Zimbra Address Book contacts
Migrates Calendar & all its details
Migrates Tasks or to-do list of Zimbra
Qualities Possessed by the Software

Migrate Multiple Mailboxes/Users as Batch
Now you can migrate multiple mailboxes configured with Zimbra Web Client or Zimbra collaboration suite. Use the "Multiple Mailboxes" option incorporated with the ENTERPRISE License of the software to select multiple mailboxes exported as TGZ file for large scale migration.

Migrate Zimbra Web Client Mails
With this program you get an out & out email migration solution. The program very easily migrates mails of Inbox, Outbox, SentItems, DeletedItems, etc to PST format. Meanwhile, it also maintains the formatting – RichText & HTML of the mails. It retains the metadata information (to, cc, bcc, subject, etc) & also transfer emails attachments (all format & size).

Migrate Zimbra Address Book
The software also moves the Address Book of the Zimbra with all its contacts to Outlook. It maintains all the contacts Fields accurately, like – Name, Surname, Phone Number, Address, Occupation, Education, Suffix, Photo, etc.

Migrate Zimbra Calendar
The software also support to migrate the Calendar & maintains all the dates & appointments intact. It keeps reminder, meetings, appointments, & other information you have store as it is.

Migrate Zimbra Tasks
The program also transfers the Tasks files from Zimbra to Outlook without any issues. So, if you have managed your to-do-list in Zimbra, the software will move them.

No Need for Zimbra Installation
For performing the migration task you will not require to have Zimbra Desktop or Web Client install in the machine. Just get the TGZ files or folders & you can migrate them to PST format easily.

Saves files in new *.pst
The software does not overwrite any existing PST file of your system, it in fact generates & saves the converted files in a new *.pst file.

Changes TGZ to UNICODE PST
Software saves the TGZ files in UNICODE PST format, which you can import in MS Outlook 2003, 2007, 2010, 2011 & 2013, but only in 32-bit.

All Windows OS compatibility
It compatibility with all Windows OS Editions is amazing. You can install & run the software in Windows 10, 8.1, 8, 7, XP, Vista, 98, 97, etc easily.
See the Zimbra Mail Migration Process in Action
Zimbra Migration Screenshots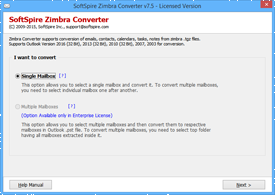 For complete working guide, Visit Guide Page.
Take a Software Test
Download Edition, as it will be better for you to try the software firsthand before going on with the License Edition.
Demo is for FREE & it will convert everything, but leave DEMO Word Stamp all over the mails & other files. For doing complete migrate you must purchase the License Edition, we have License Starting from $299.
Option for migration of Multiple Users TGZ files in batch is available with ENTERPRISE LICENSE only.
FREQUENTLY ASKED QUESTIONS
HAVE QUERIES ?